Build a Jeep Wrangler Overhead Console for Equipment
[
index
] [74,166 page views]
Tagged As: DIY, Equipment, How To, Jeep, TJ, and Wrangler

---
Jeep Wranglers evoke in their owners a sense of imagination and ingenuity often expressed in vehicle modifications. Most of these modifications are oriented towards improving the off-road performance of the vehicle such as suspension lifts, axle lockers and air snorkels. However, there are plenty of gadgets available for the vehicle's interior as well. The CJ and YJ series Wranglers had very spartan dashboards, offering drivers plenty of room for interior equipment. Since Jeep's introduction of the TJ series in 1997, however, the integration of more creature comforts has significantly limited available real estate.
In order to accommodate the latest gadgets, a Jeeper must squeeze equipment into every last nook and cranny. It is especially difficult for taller drivers who cannot utilize space underneath the dashboard without sacrificing leg room. Additionally, the Wrangler's squat windshield and upper dashboard cannot support much equipment without restricting visibility.
Some drivers resort to purchasing overhead equipment mounting racks for several hundred dollars.1,2 However, a very similar effect is possible for a fraction of the cost by constructing a custom overhead console spanning the Jeep's roll bars to support additional interior equipment using readily available components.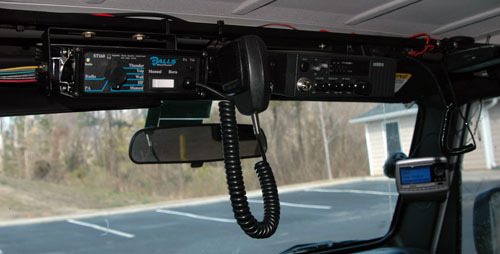 Figure 1: Accessory Rack with PA, CB, Radar Detector and Sirius Satellite Radio
These instructions will walk through the steps required to build such a rack (see Figure 1). It will mount across the front roll bars of a Jeep TJ approximately five inches behind the sun visors. Additionally, it will feature power outlets to reduce wire clutter and expedite future equipment installations.
Parts Required
18 Gauge Wire Spool, available from Radio Shack PN 278-567 $7.99
Fuse Taps, available from Radio Shack PN 270-1204 $0.97
Fuse Tap, available from Advance Auto Parts PN BP/HHH-RP $6.99 <-- better option
12 Volt DC Outlet, available from Radio Shack PN 270-1556 $6.99
4 Position Barrier Strip, available from Radio Shack PN 274-658 $2.29
6-32 RH Screws, available from Radio Shack PN 640-3012 $1.99
6-32 Hex Nut, available from Radio Shack PN 640-3019 $1.99
Spade Connector Package, available from Radio Shack PN 64-3124 $1.69
60" Shelf Track (std black), available from Lowe's Hardware $7.97
Hose Clamps (x2), available from Lowe's Hardware $0.87
Tapping Into the Fuse Box
The first step is to route electrical power to the roof. Remove the glove box to access the interior fuse box. To remove the glove box, simply open it and slip the catch strap away from the box while being careful not to dump your contents out. Fuse #19 is designated for accessory electronics which only routes power to equipment when the ignition is activated. Select a different fuse or route wires directly to the car battery if continuous power is required. Cut equal lengths of 18 gauge wire to provide power up to the roof.3 The length required will depend on where the electrical strip will be mounted (e.g., approximately ten feet for a center mount placement). Use a fuse tap to connect the positive (red) wire to the fuse. The fuse box is mounted directly to the chassis with a large screw. Loosen this mounting screw a few turns and loop the ground (black) wire onto it for a direct connection to the chassis ground.
Figure 2: This picture is a TERRIBLE example of harnessing the vehicle's electrical power. Use one of the fuse taps referenced in the parts list above to properly tie into Fuse #19.
Keeping Things Tidy
Remove the three screws holding the trim panel in place against the windshield frame (see Figure 3). The Jeep's dashboard has plenty of empty space behind the glove box for routing the power wires upwards towards the windshield. Pass the red and black power wires up the windshield behind the trim panel and reattach the panel to conceal them. A variety of wires can be hidden behind the trim panel ranging from CB radio frequency antenna cables, stereo inputs or even public address system speaker wires.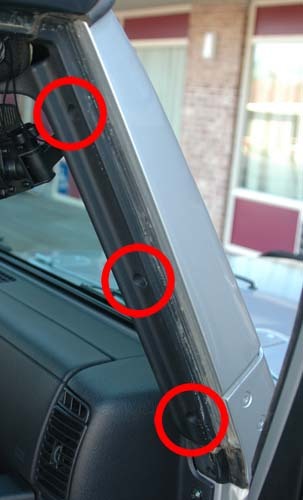 Figure 3: Removing a Jeep Wrangler's windshield trim panel for power cable routing.
Routing Power Cables
After re-attaching the trim panel to the vehicle, pull the wire slack through the panel's top hole. There will be a gap between the trim panel and the roll bar thick enough to accommodate passing wire (see Figure 4). At least four feet of slack will be required to attach to the barrier strip (mounted just off center). Leftover wire can either be trimmed off or slipped back into the trim panel. Crimp spade terminal connectors to the wire ends to facilitate hooking up the electrical system when the bar is mounted. While bare wires can be tightened directly underneath a screw, spade connectors make it easy to slip connectors in and out of the assembly.
Figure 4: Routing power wire to the overhead console.
Installing a Power Terminal
Electrical accessories will need a source of power. In future steps, DC power sockets will be installed onto the rack to simplify third party equipment installations. However, there still needs to be a simple way to provide power to the DC sockets. A four position barrier strip will handle this task nicely because its strips can be divided into positive and negative terminals. To make matters smoother, the screw lugs allow for wires to be directly wrapped onto the screws or for spade connectors to slip underneath the screw head. The use of spade connectors is recommended for quick installation and removal.
Figure 5: Using a barrier strip as a power junction for accessories. This technique is useful when you're constantly changing out your overhead console's hardware. However, once a more permanent configuration has been selected, you should directly tie the power lines and bundle them into the rack for aesthetic (and safety) purposes.
The four position barrier strip is pre-drilled for screw mounts that conveniently align to the shelf track's slots. 6-32 sized screws and nuts fit snugly through the slots normally intended for shelves. Selecting which lugs correspond to various purposes is largely a matter of arbitrary choice. This implementation places the power wires on the bottom right and ties the adjacent terminals into the circuit via jumper wires across the top. 12 volt DC outlets are connected directly to the bottom left terminals. Direct wire connections not requiring an outlet are tied into the top left terminals. Again, the selection of which terminals serve which purpose is arbitrary so long as positive connects to positive and negative to negative. My delineation between terminals was made for organizational purposes and to prevent any one terminal from having every wire tied into it.
Adding DC Power Ports
These 12 volt DC ports can also be mounted directly to the shelf track without drilling (see Figure 6). Each port is fuse protected and connected directly to the barrier strip. Attaching DC power sockets to the frame allows common components to be powered directly from the strip without a mess of wires tying into the Jeep's limited DC power ports at the bottom of the dashboard. Furthermore, drivers will not have to cut the power connectors from their equipment, which simplifies installations. To keep wiring in a neat and orderly fashion, route cables through the shelf track (see Figure 7).
Figure 6: Installing DC power outlets for simple accessory use.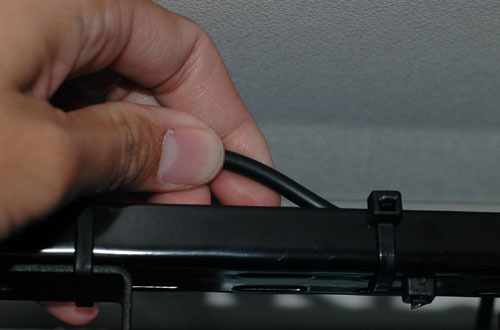 Figure 7: Routing cables inside the track to keep things tidy.
Mounting the Rack
Finally, with the DC electrical outlets mounted to the shelf track, the rack is almost prepared for mounting. On the shelf track's end, remove the strip of metal between the endmost shelf slots (see Figure 8). This creates a perpendicular slot through which regular hose clamps may secure the rack to the roll bars. Keeping the clamps loose, adjust the position of the rack by sliding it back and forth on the bars to ensure appropriate head clearance for the driver.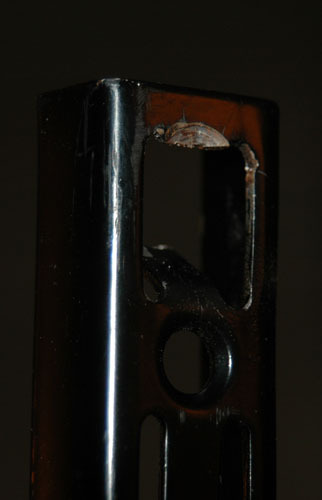 Figure 8: Preparing the shelf track for the hose clamps.
Wrap the hose clamps around the rollbar and thread an end through the shelf track. Then tighten the hose clamps to secure the rack to the vehicle (see Figure 9). Secure the power wires from the windshield trim and route them through the shelf track toward the four position barrier strip. Screw down the power wires into the barrier strip to complete the installation. The ends of the frame bar can be crimped downward or trimmed to provide a smoother surface to prevent soft tops from tearing.
Figure 9: Clamping the shelf track to the roll bar to complete the overhead console.
Example Accessories
Jeep Wranglers are not meant to be speed demons, but the overhead rack does provide a convenient location to mount a radar detector. The high position provides ample 'visibility' for the detecting sensors in both forward and reverse directions and keeps the equipment from occupying valuable window real estate.
Figure 10: Mounting a radar detector to the overhead console.
A CB radio is an essential element for off road communications deep in the wild.5 Many CB radios incorporate NOAA weather bands to keep drivers up to date on the latest conditions in their area. Whether using it for talking with fellow off road enthusiasts or to contact help in an emergency, a CB radio can take up a significant amount of space. A position on the overhead rack keeps the equipment readily accessible and both the dashboard and floorspaces clean.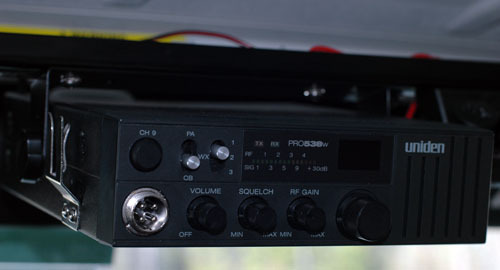 Figure 11: Mounting a CB radio.
Satellite radio has recently emerged as a new musical standard for on the go entertainment. Off road drivers can especially enjoy Sirius satellite radio technology deep in the heart of Utah's famous MOAB trails or your local backwoods mud holes where regular radio cannot reach.6 An equipment rack is handy for powering the radio and providing a metallic surface to mount the magnetic satellite antenna.7 The equipment and its associated wires are kept neatly out of the way and overall installation time is minimized.
Figure 12: Installing Sirius Satellite Radio.
A public address system truly serves no legitimate purpose in a Jeep beyond 'harassing drivers of lesser vehicles.'8 The ability to speak one's mind, however, is very therapeutic and cannot be overlooked. A Galls Street Thunder siren is capable of delivering 200 watts of vocal power (product includes hearing loss warning decals by OSHA requirement) from a loudspeaker concealed under the hood.9 The overhead rack keeps the hand mic ready for instant access.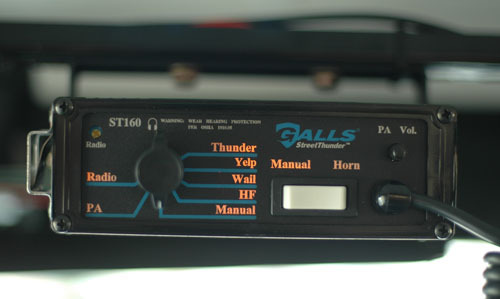 Figure 13: Installing a public address system to let you yell at other drivers.
More Ideas
A powered equipment rack presents many possibilities for customization. GPS receivers can be nestled into the rack for off road trailblazing or navigational directions for daily driving. Dome lights can be installed for passenger use. The rack is also a convenient location for mounting emergency equipment like SureFire flashlights, Victorinox utility tools or small fire extinguishers.10,11 Not all Jeep modifications are made for hard-core rock crawling, regular nerds also drive Jeeps. OBD II interface equipment can provide the driver with real-time information about the vehicle's condition by running an interface cable down the windshield trim panel to the OBD II port by the driver's clutch foot (see Figure 14).12,13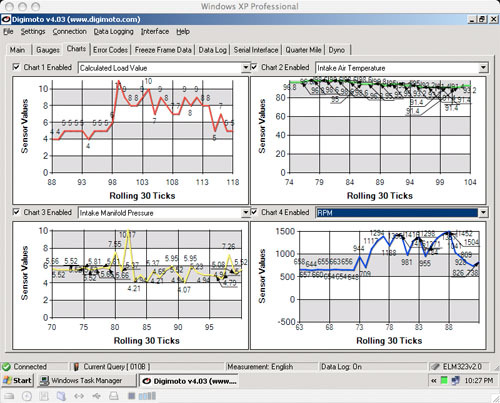 Figure 14: OBD II Diagnostic Software
An alternative location for installing the rack is in the rear of the vehicle in the cargo area. Install a second, parallel rack and mount a flat base across the twin shelf tracks. This base will provide a sturdy surface upon which more elaborate electronics may be easily installed into a Jeep. On top of this surface, attach a thin foam pad to absorb vibration. The platform is now suited for installing a power inverter to convert 12VDC into 110VAC from which electronics such as a Sony PS2 can be operated. Attach video screens beneath the racks and open the tailgate to enjoy movies or video games while camping or tailgating. This surface may also be used to install an Apple G4 Mini, 802.11b/g war-driving antennas and other scientific equipment.14,15/p>
Figure 15: Modification to support larger equipment
A Jeep's True Calling
In the end, however, with ancillary equipment installations simplified and expedited, Jeep drivers can spend more time on the important things – getting their Wranglers dirty.
Figure 16: My silver Jeep Wrangler.
---
Footnotes
1 Overhead Shelf, JeepLine, accessed January 2006 from http://www.jeepline.com/store/itemdetail.asp?ID=10193278
2 Overhead Console, JeepLine, accessed January 2006 from http://www.jeepline.com/store/itemdetail.asp?ID=4337
3 American Wire Gauge Table and AWG Electrical Current Load Limits, Powerstream, accessed January 2006 from http://www.powerstream.com/Wire_Size.htm
4 Cobra XRS 9600 Radar Detector, Cobra, accessed January 2006 from http://www.cobra.com/index.php?page=shop/flypage&product_id=374&id=1
5 Uniden CB Radio, Quadratec, accessed January 2006 from http://www.quadratec.com/cgi-bin/sgin0101.exe?T1=96080+90&UREQA=1&UREQB=2& UREQC=3&UREQD=4&FNM=00&UID=2006021707444012
6 Sirius Sporster Relay, Sirius, accessed January 2006 from http://shop.sirius.com/edealinv/servlet/ExecMacro?nurl=control/StoreItem.vm&ctl_nbr=2640&siId=907941&catParentID= 7875&scId=7875&oldParentID=7870
7 The fiberglass hard top and canvas soft top do not interfere with the satellite frequencies allowing antennas to remain inside the vehicle where they will not be stolen.
8 The Jeep Wave: The Definitive Guide, JeepTalk.org, accessed February 2006 from http://jeeptalk.org/jeep_wave.shtml
9 Galls Street Thunder SK125, Galls, accessed January 2006 from http://www.galls.com/style.html?assort=general_catalog&style=SK125
10 SureFire Flashlights, SureFire, accessed January 2006 from http://www.surefire.com
11 Victorinox, Original Swiss Army Knives, Victorinox, available from http://www.victorinox.com
12 ElmScan, ScanTool.net, accessed January 2006 from http://www.scantool.net
13 DigiMoto Software, DigiMoto, accessed January 2006 from http://www.digimoto.com/
14 iJeep2005, Jeepintosh - 2005 Jeep Grand Cherokee with Mac Mini, Flickr.com, accessed February 2006 from http://www.flickr.com/photos/37009071@N00/sets/1645157/
15 802.11b/g Antennas, NetStumbler, accessed February 2006 from http://shop.netstumbler.com/